Welcome to the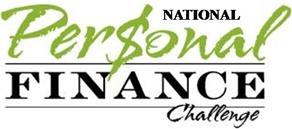 The National Personal Finance Challenge is an opportunity for students to demonstrate their knowledge of Personal Finance by competing with other students across the nation in a three-round competition. The two teams with the highest scores will then compete for the national title in a fast-paced "Quiz Bowl" round.
In the spring of 2017 we will crown a new National Personal Finance Championship team. Students and teachers will enjoy an exciting day of challenging competition, and competitors from other states!
The National Personal Finance Challenge will be held Friday, May 5, 2017 at the Federal Reserve Bank in Kansas City.
The National Personal Finance Challenge is the culminating event to state challenges across the country. Participating states may use the Finance Challenge Online portal to offer the online round in their states. Depending on your state, top teams may then move on to compete at exciting on-site events to crown their state champion. Crowned state winners, regardless of how states deliver their competitions, will go on to compete in Kansas City to determine a National Champion. To see what's happening in your state, click here and then select your state. Instructions for registration will be included on your state's page.
There is no cost to either teachers or students to participate in the Personal Finance Challenge ONLINE!
The National Personal Finance Challenge and the Financial Capability Challenge are different things. For information on the difference between the two challenges, click here. Note: The U.S Treasury Department has not run the Financial Capability Challenge since 2012.
Click here for rules and guidelines.
Click here for the competition teacher's guide.