It's a Fact! A Solid Understanding of Personal Finance Brings Personal Success!
Why get your students involved in this competition? Because you can't read the news without seeing why a fundamental understanding of economics and personal finance is so important to the future of our youth and our country.
One way to help students attain that solid understanding is by taking part in the Indiana Personal Finance Challenge! And it's easy to participate! Just register online and create your team(s), then have your team members login at the appropriate time and take The Challenge!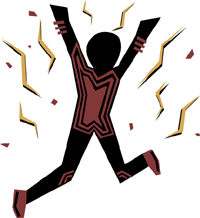 Nobel Laureate in Economics James Tobin, in 1981, said, "High school graduates will be making economic choices all their lives, as breadwinners and consumers, and as citizens and voters. A wide range of people will bombard them with economic information and misinformation for their entire lives. They will need some capacity for critical judgment."
The Indiana Personal Finance Challenge is a great opportunity for students to demonstrate their personal finance chops. More importantly, the competition helps students improve their understanding of economic and financial literacy concepts that will serve them well as adults!