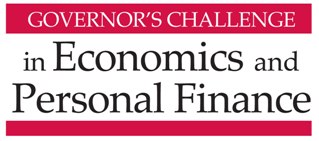 Welcome to the Virginia Governor's Challenge - FinanceChallenge ONLINE competition!
There is no cost to either teachers or students to participate in the Governor's Challenge - FinanceChallenge ONLINE!
The Virginia Governor's Challenge is an opportunity for students to demonstrate their knowledge of personal finance and economic literacy by competing with other students across the state. Teams of three to four students complete online exams that may qualify them for an exciting championship competition.

Eligibility
All high school students are eligible. No formal courses in personal finance are required. Any team of students interested in personal finance is encouraged to compete. Schools may enter multiple teams in their qualifying divisions. Students not currently enrolled in a qualifying course may participate, as long as they are coached by a school-sanctioned teacher and registered by the teacher.
State semi-finalists will be invited to compete in the Personal Finance Governor's Challenge Case Study. Those teams will be notified after the online exam is closed (after March 20th). The Case Study will be available on February 1, 2021, and the semi-finalist team must submit their study by April 29th at 3:00 pm ET.
Students competing in the FinanceChallenge Online may also participate in the EconChallenge Online competition. Click HERE to go to the EconChallenge Online site.
Funding for this program was made available to teachers and students through the generous support of the Voya Foundation and the Council for Economic Education.