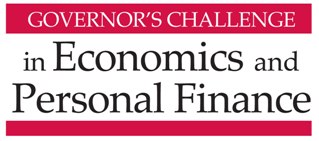 Rules
1. Register as a teacher. Within 24 hours you will receive an email confirming your registration.
2. Once you have registered as a teacher, you can begin to create student teams of 3 to 4 students.
3. After creating the teams you will be given unique codes for each student. These codes are located on the Team Administration page which automatically appears after you log in from the Teacher Login page. Distribute these codes to your students when they are ready to take the Governor's Challenge.
4. The 2019 Governor's Challenge - FinanceChallenge ONLINE begins on March 1st and ends on March 12th at 3pm. Once competition begins, students can enter the FinanceChallenge ONLINE website and complete a 30 question rapid fire exam. Each student will be given 35 minutes to complete the exam. Teachers are responsible for monitoring students to prevent cheating.
5. SCORING INFORMATION: The sum of the top three individual scores on each team make up the team score. Teachers can log in to obtain both individual and team scores for their students. These scores will populate after the team test time has expired.
Scoring on individual tests are as follows:
+10 for each correct answer
0 points for each incorrect answer
0 for each unanswered question
6. Top scoring teams in each VDOE region will be recognized. Regions are based on the regional study groups set by the Virginia Department of Education and one region for multidivision online teams.
Students competing in the FinanceChallenge Online may also participate in the EconChallenge Online competition. Click HERE to go to the EconChallenge Online site.