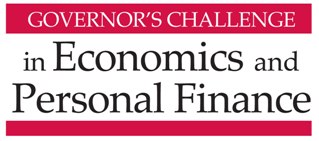 Welcome To the Virginia Governor's Challenge - FinanceChallenge ONLINE!
January 1, 2018 - Teacher Registration Begins
March 1 - March 16, 2018 at 3pm - online competition
April 20, 2018 - Governor's Challenge State Championship competition held at Capital One in Richmond, VA. In the Personal Finance division, students will prepare a presentation in advance providing advice based on a case scenario. Click HERE to go to the Case Study information page.
There are no registration fees for the Governor's Challenge - FinanceChallenge ONLINE. Teachers may form multiple teams. Students not currently enrolled in a qualifying course may participate, as long as they are coached by a school-sanctioned teacher and registered by the teacher.
Up to 12 teams in each division will be invited to participate in the Championship competition to be held in Richmond, April 20, 2018. Regional winners in the Online Challenge as well as the top scoring teams (not to exceed one team per teacher in that division) will be invited.
Students competing in the FinanceChallenge Online may also participate in the EconChallenge Online competition. Click HERE to go to the EconChallenge Online site.